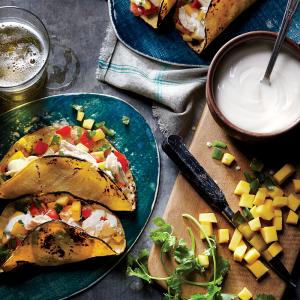 Possibly the favorite meal in our household.  It's easy, and a very healthy go-to for us.  We make a huge batch of the mango-salsa and often just throw it on top of a bed of lettuce and add a protein such as chicken.  DELICIOUS!
Ingredients:
12 ounces skinless, boneless chicken breast halves
3 tablespoons fresh lime juice, divided
1 tablespoon canola oil
1/2 teaspoon kosher salt, divided
3/4 cup chopped peeled ripe mango
1/2 cup chopped seeded tomato
3 tablespoons chopped fresh cilantro
1 tablespoon minced seeded jalapeño pepper
8 (6-inch) corn tortillas
1 cup packaged angel hair coleslaw
Preparation:
1. Place chicken in a skillet, and cover with water; bring to a boil over medium-high heat. Boil 1 minute. Remove pan from heat; cover and let stand 15 minutes or until chicken is done. Remove chicken from pan; cool slightly. Tear chicken into strips. Combine 2 tablespoons juice, oil, and 1/4 teaspoon salt in a bowl. Add chicken; toss to coat.
2. Combine mango, tomato, cilantro, and jalapeño in a small bowl. Stir in remaining 1 tablespoon juice and remaining 1/4 teaspoon salt.
3. Heat tortillas over medium-high heat directly on the eye of a burner or in a skillet for about 15 seconds on each side or until lightly charred. Top tortillas evenly with chicken mixture, coleslaw, and mango mixture. Top each taco with about 1 teaspoon sour cream.
Nutritional Information
Amount per serving
Calories 284 Fat 9.1 g Satfat 2.1 g Monofat 3.7 g Polyfat 2.1 g Protein 22 g Carbohydrate 30 g Fiber 4 g Cholesterol 61 mg Iron 1 mg Sodium 415 mg Calcium 57 mg